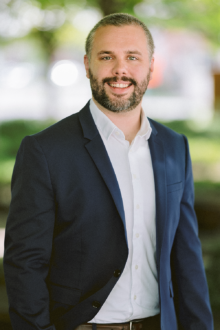 Andrew Burkey
Investment Operations Associate
Clifton StrengthsFinder®
Futuristic – Maximizer – Learner – Analytical – Ideation
Andrew is a member of the Investment Team and oversees all the execution and implementation of the Investment Team's discussions and decisions. He is responsible for making sure all accounts are being invested properly and functioning with the best possible outcome for our clients.
The Joseph Group Value that means the most to Andrew is 'Excellence'. Striving for excellence means avoiding complacency. We have the opportunity to serve wonderful clients and must prioritize continual improvement.
Andrew grew up in Westerville and attended Ohio Dominican University, where he graduated with a Bachelor degree in Business Administration and an MBA in Finance. He worked at Cardinal Health for five years and held several positions as a data analyst. Andrew was self-employed for two years while operating an options trading research company, where he analyzed institutional options trades and provided context for individual traders.
Andrew lives in Westerville with his dog, a pit bull mix named Odin. In his free time, he likes spending time outside – camping, fishing, hiking, and kayaking. He also enjoys traditional country music, trying new beer/whiskey, and traveling.